Below are some of the guest reviews of Pony Chalet by the many families who have stayed and enjoyed a wonderful family vacation, family reunion or retreat!  Book this property here.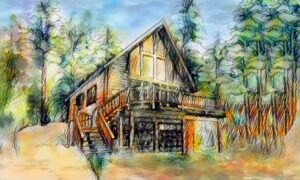 Everything We Needed In A Clean, Comfortable Home"
The Ardis Family, Austin, Texas. 02/2021
"We have had the best time these last three weeks. We absolutely loved the snow.  The kids went sledding daily and we were happy to be cozy and warm by the fireplace.  We thank you for having everything we needed in a clean, comfortable home. We will be back!"

________________
"Had An Absolute Blast"
Erik Werner, San Jose, California 01/21/2021
"Thank you for hosting us.  I had an absolute blast.  The house and Pagosa Springs in general were amazing.  Wolf Creek, The Springs, the gumbo and so many more incredible things were awesome to experience. I hope to be back in Pagosa sometime soon to get some more great skiing and fun times!

________________
"Incredibly Blessed To Stay At Pony Chalet"
Hugo, San Jose, CA 1//20/2021
"Such a wonderful and cozy environment!  And I feel incredibly blessed to have had the chance to stay at Pony Chalet for the last few days, in the beautiful city that is Pagosa Springs.  From the comforting sleeping arrangements, to the adventurous hikes located only two miles away, to lastly waking to fresh and crispy layers of snow, staying in this wonderful house, in this vibrant city was a great time!  Cannot thank you enough!"
________________
"Such A Welcoming Home"
The Huskey family and Carrillo family, Texas. 12.28.2020
"We had a great time! Thank you for such a welcoming home. Colorado holds a special place in our hearts – and this just adds to it.  We are now braining the 3rd generation of our family to this area. God bless! Wishing you a great 2021!"
________________
"Had A blast!"
The Lamadrid and Jerebker Family. Texas.  11/26/2020
"I got here a few days ago.  Sadly I have to leave but the the time I was here I had a blast!  I played cards, I made cookie dough and me and my family watched Avenger, Infinity War and the Pride of the Yankees.  Aw!  When I went to look at my room I found a dog, tiny polar bear and a horse.  I went down to the basement and found a fish that could sing. PS It was not an actual fish. And PS the animals I described were stuffed not alive. Anyway I had the best time here and I hope to come back !
________________
"Enjoyed Our Stay!"
The Blanchard family, Dallas Ft. Worth, Texas. 10/14 – 10/18/2020
"We enjoyed our stay! Thank you for all the thoughtful details you put in to making the home cozy for our family!"
________________
 "The House Was Great For Our Family"
The Lucas and Polk Families, Dallas Ft Worth, Texas. 10/8 – 10/12/2020
"WOW. We love Pagosa Springs!  The house was centrally located and that was helpful.  We have dear friends of 40 years who live 1 mile away.  The house as great for our family and we will return to PS!"
________________
"I Couldn't Ask For More."
Shayla Christian, Texas. 09/19/2020
"Thank you so much for sharing your home with me and my family.  Your home is so beautiful and close to town.  This house had more than we expected. As for my first trip to Colorado, I couldn't ask for more.  Thank you."
________________
 "Wonderful Time at Pagosa"
Chiara, Colorado. 09/14/2020
Hi! My Mom thanks you for all of the details. I had a wonderful time at Pagosa.  I loved the clock that made the different bird sounds!  My friend Becca (birthdays on the same day) left already but I think she would've written that she loved the house as well.  And guess what?  I also saw a baby and moma deer out the window just like the people on the previous page!  I hope I can come here again sometime! And I; happy I missed a school day for my birthday! Thanks for letting use use the house!
________________
"We Had An Amazing Time!"
Kirsten & Jack, Bay Area, California. 08/7 – 08/20, 2020
"We had an amazing time! Was so wonderful to watch the Mom and Baby deer feeding in the backyard on many days!  Pony Chalet is so lovely and peaceful. Thank you for sharing your beautiful home with us  We can't wait to come back to Pagosa next summer!
________________
"We Will Definitely Be Back"
The Reeves Family – Chad, Amy, Walker & Jessa from Cushing, Texas and The Overmyers, Gary & Rachel from Texarkana, TX.  07/25/2020
"We love Colorado and the Pagosa area!  The house was very nice and comfortable for our group! We will definitely be back as soon as we can!  Thank you so much for the special welcome gift basket! A special treat!  Thank you for sharing your home with us!"

________________

"The House Is So Beautifully Decorated And So Organized"
Georgia, Bill, Sylvia & John, Austin, Texas.  07/18/2020
"We enjoyed our stay at your chalet tremendously. We came from Austin, TX.  And it was so refreshing to be here around the beautiful views of your chalet. The house is so beautifully decorated and so organized. We enjoyed very much the bottle of Martinelli's sparkling apple cider. We look forward to coming next year!"
________________
"Great Time!"
Jafharit, Jaswinder, Kiran, Khus, Leena and Taz, Dallas Texas.  06/29/2020
"The house was amazing and we all had a great time!"
________________
"What A Beautiful Home!"
Susan & Joel, Noah & Harleigh, San Diego, California 03/23/2020
"What a wonderful oasis for us to have the last couple of days! We couldn't possibly be more thankful for such a warm and inviting place to stay.  Unlike so many others how have enjoyed it here – we didn't land here on purpose. Two weeks ago when California schools and sports closed down, we took off on our own social distancing expedition. All rural, site seeing and social distancing, living out of an RX for the past two weeks. We've seen almost no one for two weeks. We didn't ski, snow mobile, go to restaurants or shop while we were here.  We walked in the woods, slept in, laid low and enjoyed a couple days out of the RV before headed back home to a shelter-in-place order.  We've done that for 2 weeks over on our RV already. But with the luxury of beautiful vistas.  We're so very appreciative to have had the use of your chalet as  a stop over during this time. While all the world seems, in many ways, bleak right now – this has been a warm, delightful and treasured time for us.  Hope that one day we'll be able to return and enjoy the many other things that Pagosa Springs has to offer!"
________________

"It's Absolutely Perfect!
Kara – family of 4, Texas on 02/9/2021 (extended stay of 3 weeks)

"We love your home so much!  The special care packages made my day.  The kids have been using the sleds and making igloos in the yard. Each of us have our little school/office spaces, we've been baking – it's absolutely perfect!"
________________
"Beautiful Accommodations"
Guest Review: Karla, Littleton on 2/18/2020
"We arrived at Pony Chalet after a beautiful scenic drive. You could see Pagosa Peak and the Hot Springs steam rising up as we drove into town. The kids enjoyed ice skating downtown and several ski days at Wolf Creek. There is no better place to learn to ski than here with FRESH POWDER, no long lines and affordable lift tickets! Pony Chalet is spacious and peaceful with wooded views. It has absolutely everything you might need. We enjoyed the gift basket and ate our first meal using what was provided.
These hosts are very generous to their guests and include a fully stocked kitchen with guest amenities like coffee, tea, condiments and even items for baking. The house decorations were very charming. We plan to return every year in February to enjoy it again – and tell our friends!"
________________
"Beautiful Deck Views"
Guest Review: Luis from Albuquerque on
"We really enjoyed our stay at Pony Chalet! The snowy view every morning from the deck was so beautiful. I've never skied in better conditions – teal blue skies, fresh powder and affordable lift tickets at Wolf Creek. We will plan to come again in July. We loved our experience…"Casa es muy bello – Gracias!!"
________________
"Yee-Haw For Pony Chalet!"
Guest Review: Amanda from Arcata, CA 1/9/20 – 1/16/20
"This vacation was so incredible thanks to our wonderful accommodations at Pony Chalet! The kitchen had every appliance we needed. Tea and coffee were provided, which I have to say was my favorite. The house was decorated just so cute and all the nic-nacs made me happy. The beds were so comfortable. There were even towels provided for us to use at the Hot Springs. We are just so grateful for how homey our stay felt.
We're looking forward to coming back this summer for mountain biking in the San Juans and perhaps even a summer ski at Wolf Creek! Overall, a 10 out of 10 stay at the Pony Chalet! I will be telling my friends with families where they should stay the next time they visit Pagosa Springs."
________________
Guest Review: The Downs Family 1/2/2020 – 1/5/2020
"Had a wonderful time staying at the Pony Chalet. The house had everything we needed and we loved the homey feel. We loved going into town and skiing at Wolf Creek. Thank you for such a a great stay!"
________________
"Great Place!"
Guest Review: 01/03/2020
"The host thinks of everything!! Large group ? Great place !!"
________________
"Great Location!"
Kelly H. on
"The property was in a great location. Manager was very accommodating about letting us check in early due to a snowstorm that was approaching. Kitchen had just about anything you could need from crock pot to toaster! There was even a sled in the garage. Great vacation. May need chains or 4 wheel drive for snowy driveway."
________________
"Superior Value For Families!"

"We have stayed more than once at this mountain home, with different combinations of family members and friends. Loved how close it was to everything, yet quiet and private. This house accommodates all age groups very well and has views plus is on a quiet street to enjoy nature and relax. We loved seeing the sun set, the moon rise and the deer grazing daily. There are gathering areas for larger groups in the living area, on the deck, plus the lower bonus room was great for our big family game nights.
This house has everything you can possibly need! It is decorated beautifully and has very comfortable beds. We all enjoyed Pagosa Springs, Wolf Creek skiing, the hiking and biking trails plus the town has much to offer. We have had such great times here, that we plan to return annually for a family reunion at Pony Chalet!"

________________
"Just got here a couple days ago and already having such a wonderful time! Nothing beats the fresh summer air, warm sunshine and beautiful mountains. We love the comfy cute beds and seasonal decor! Can't wait to come back soon. You will definitely see us back in the winter!"
________________
"A Special Feeling Away From City Life"

"We enjoyed the feeling of home, yet really felt like we got away from city life. My wife and I loved the Hot Springs, although the sulfur made us pretty stinky, and our aches and pains always went away.
We tried mountain biking at Turkey Springs…WOW…it was so fun! Loved that there was a little something for everyone in Pagosa Springs. Pony Chalet is a 10 out of 10 and we would come again!"
________________
"This house was a great house. Everyone had plenty of room. The outside patio was a great place to hang out in the evenings. The kitchen was one of the best stocked kitchens I have ever seen in a rental. Everything was super organized. We saw deer every morning which was a highlight for the kids. There was plenty of parking."
________________
"Amazing!"
April 2019

"This  place  is  amazing!  Cozy,  clean,  convenient and  well  appointed. Come to Pagosa!"

________________
"Clean and Comfortable"
March 2019
"Property was as described clean and comfortable. Plenty of dishes and silverware. All in all it was a great place!"
________________

"Great House!"
February 2019
"Property was as described – clean and comfortable. Plenty of dishes and silverware. All in all it was a great place."
________________
"Definitely An A+ Property! "
January 2019
"This home is an excellent  vacation rental value! Our family of 5 including college students had an awesome ski week at Pony Chalet this winter. Everything was clean and beautiful and the house was decorated in a January snow theme.  The furnishings are lovely and the house was immaculate.  All the beds were super comfortable so we slept great after a some fantastic ski days on the slopes at Wolf Creek.  We loved the open high ceilings and the big dining area – the gift basket when we arrived was very thoughtful.  This chalet is so close to everything, yet with private, wooded views of the mountains.  We would definitely rent this vacation home again and plan we to return again in the summer. "
________________
"Great Chalet –  Beautiful & Quiet"

"We loved our stay at the Pony Chalet. The deck provided a place of solitude for morning coffee and reading. We even observed a deer feeding and listened to birds singing."
________________
"Peaceful, Gorgeous Setting"

"This chalet was an exceptional value for the location, size and amenities. We enjoyed several days of perfect sunny weather and gorgeous mountain views! The chalet was peaceful, beautifully decorated and very clean. It had everything we needed including a gift basket left for us plus extra towels for the Hot Springs.
We loved seeing deer walking by many days while we ate on the deck. We hiked in the San Juan Forest just minutes away, saw Treasure Falls and went to Chimney Rock, which was the highlight of our trip! We will definitely plan to stay here next summer and bring more family members."
________________
"Amazing!"

"This place is amazing! Cozy, clean, convenient and well appointed. Come to Pagosa!"
________________
"Great House For Our Ski Trip"
"Worked great for us for a ski trip with 2 small kids! Had everything we needed for a great week!"
"All in all it was a great place."

Property was as described clean and comfortable. Plenty of dishes and silverware. The driveway was steep so we had to park on the lower portion and walk uphill to the house. Lack of access may have been due to the large amount of snow that weekend. Made loading and unloading somewhat a pain. One of the toilets was not operational but it was an easy fix. All in all it was a great place. The only thing keeping it from getting a 5 star review was the driveway.