Wild life viewing in Pagosa Springs is abundant! Come and see native wildlife in a beautiful natural setting! You can also visit Rocky Mountain Wildlife Park where you can take a leisurely stroll around the ¼ mile trail to see the bear, coyotes, wolves, porcupine, fox, bobcat, mountain lion, and elk.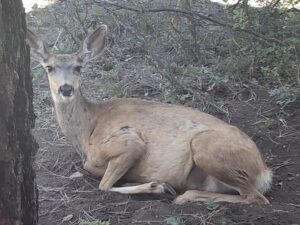 Rocky Mountain Wildlife Park
Rocky Mountain Wildlife Park is a privately owned facility that has been in operation since 1986. Its purpose is to educate people about native wildlife and provide an opportunity to see these beautiful animals up close in what would be their natural habitats. All the animal residents are non-releasable for variety of reasons. The owners and staff strive to keep the animals happy, healthy and safe for the remainder of their lives. Visit to see a daily feeding tour and come inside for a peek at the gift shop and collection of western art and wildlife displays.
Rocky Mountain Wildlife Park
4 miles south of Pagosa on Hwy 84
4821 A U.S. Hwy 84 Pagosa Springs, CO 81147
970-264-5546
rmwildlifepark.org